Hey y'all! So Abercrombie was a retailer that I kinda kept pushing to the back of my mind growing up and kept forgetting about choosing to shop at American Eagle and Hollister instead, but a few months ago I noticed that everyone was posting pictures in this cute flannel from Abercrombie. I decided to purchase it and a pair of jeans and fell in love with their quality.
They always have great weekend sales going on, so it was no surprise that when I needed a summer wardrobe because I didn't think I would still be in Louisiana right now, I took advantage of one of their big weekend sales to get a few things. What's also great is that right now they are also collaborated with the Trevor Project to create a Pride collection for this month.
This is actually my first bodysuit purchase ever and the reason I chose this one is because it is a silk cami that would look good under a blazer for work. I really love the fabric of the top and the straps are adjustable. I purchased this in my normal size, Medium.
This shorts have been my most worn item out of this entire haul. They're so comfortable and loose enough around the thigh to give a relaxed fit. I've always been a big fan of wearing white pants in the summer but always struggled finding a good pair of white denim shorts that had a more relaxed feel and these were perfect. I sized up to the 31W for a looser feel in the thighs, but I could've stayed TTS.
Okay I know I'm really late to the leopard pattern game, but I love a nice pattered cami that can go with multiple colors for blazers or suits for work to add some fun to a work outfit. This cami was so cute that I couldn't pass up on it and I can tell that this cami is one of my cami's that will get the most wear. It also has adjustable straps and even wearing my normal size Medium, I had to pull the adjustment all the way down.
Okay so honestly I was looking at another pair of mom shorts, but they were sold out in my size and the size above mine so I decided that these were similar to what I was looking for and I would find a way to deal with the buttons down the front instead of their being a zipper. Now that I've had them for a while, I actually love the buttons down the front because they are different from any other pair of denim that I own. Again I sized up in these for a looser fit in the thighs, but could've stayed TTS.
Okay, y'all know I love a good romper and this romper is so comfy. It's really simple to put on with just elastic around the bottom of the key hole at the back and the breezy fabric it's made out of. I sized up to a Large in the romper for more coverage in the shorts at the back. For those with a larger chest that don't feel comfortable wearing a backless bra, you can pair it with a cute bralette that has a lacy design on the back.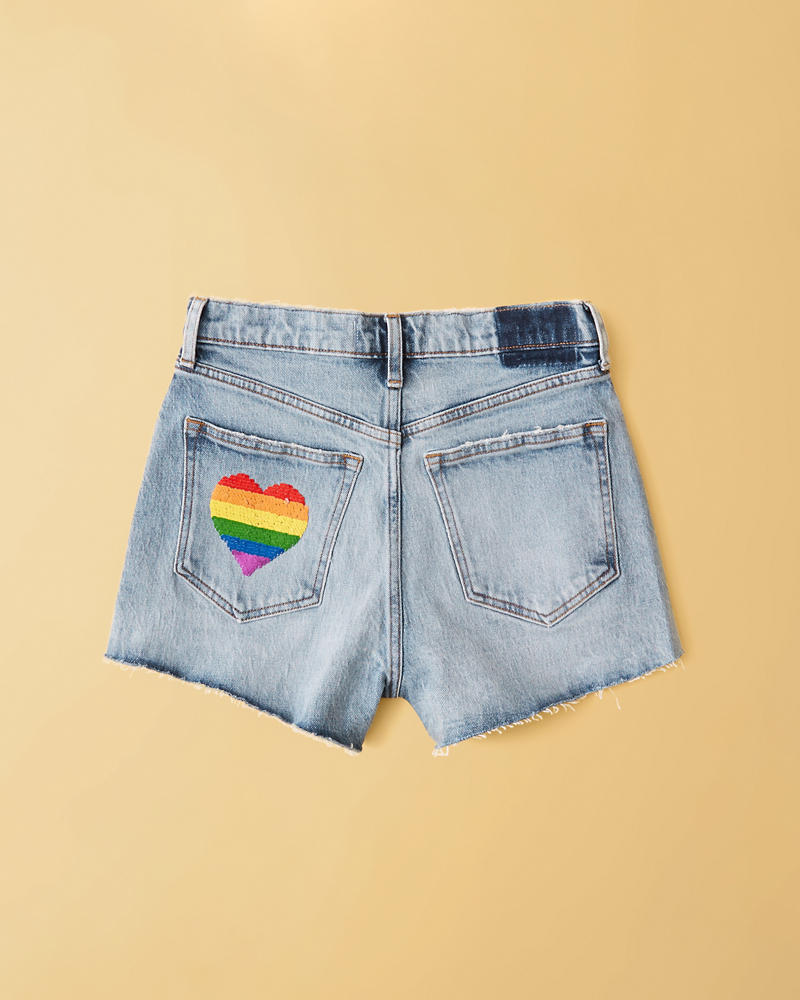 I just purchased these shorts this past weekend so I have to wait for them to get in, but I'm obsessed with these. Even though Pride has been cancelled this year because of COVID, I still wanted to dress up for it but realized I didn't have anything to wear. These were so perfect and cute that I had to buy them ASAP. The cool part is that if you don't want to have the pride colors on for the whole year, but want to keep wearing the shorts, you can brush your fingers across the heart and it will change to a red heart.